Local SEO Tip – Landing Page Quality
This may come as a surprise but NOT all sites are created equal.
Let's do a little experiment.
Which site is better?


From a consumer standpoint:
* 'A' is more visible so it is more likely to get the click.
* 'A' appears to have more and better reviews.
But, when you click through this is what you encounter.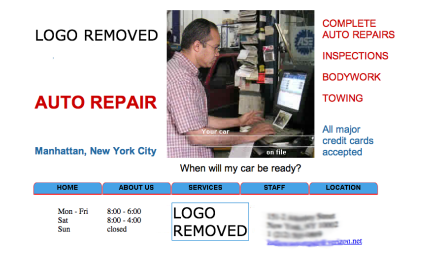 I am not sure when I have seen a landing page tell me less about a company. Now, I have obscured the business name and location. However, nothing else has been removed. This page gives you the address and phone number. It features the logo in 2 locations. But nothing else. It doesn't give any real indication to services offered, etc.
While this site is ranking in the 'A' spot now the data we have been tracking is showing this to be an anomaly. Not only will it be the more standard and known ranking factors. But, a large factor is increasing becoming landing page quality. And this site is a prime example of a landing page that could use some help.
Add descriptions about services.
Add a map to show location.
Price/Fee Structure.
Availability.
Really ANYTHING added would be beneficial.