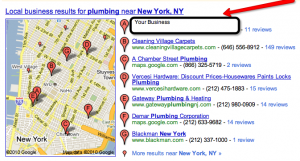 Every day we get leads who want us to take over their SEO for their business.  However, we also get contacted by business owners who are doing ok and would love to be doing better, but who can't afford a monthly budget for local seo.  We understand and have come up with a service that gets our clients amazing results and is something that doesn't have a very high cost.
A large part of Google's Algorithm to determine who shows up next to the map in those precious top 7 results has to do with citations.  Essentially, the more people they see 'talking' about your business the more trust they give your business–and the higher they rank you.  Of course, this is an overly simplified version.  But you get the idea.
For our clients we do 10, 20, 30+ hours of work month one to maximize their results, get them citations.   We do everything possible…and then do a bit more so that their competitors can't catch up.  And they don't.  But there is a cost associated with that.  For most clients the cost is very reasonable, usually they make it back with their first new client or customer.
However, one part of that initial work we do is to make sure our client's data is shown in every relevant business directory and aggregator (think Yelp, Yahoo, InfoUSA, etc).  Almost without fail they see a bump in business because of this.  Now, for our full clients we have a few valuable tricks that we do to really push things however the submissions themselves help quite a bit.
We submit to over 50 sites for clients however there are 20 that we consider to be the most valuable.   For a limited time we will submit your site to those top 20 sites.  If you were to do this yourself it would probably take you 10 hours.  Plus, you would have no way of knowing which 20 are the best use of your time.  We have a system in place where we can do it in much less time so you see results quickly-usually within 10 days.
The price for this is only $297-One Time-and depending on demand that price is likely to rise.  To get started just click the Buy Now button below.  We will contact you within 1 business day to get your details and to get started.  And, if your results are like our client's results you should see progress within weeks.
This is a great 'thank you' we just received:

Another Testimonial From A Happy Client:
"Jonathan has helped me acheive and maintain the #1 position on Google Maps for the keywords in my industry when no other SEO provider could. Many of them were able to get me there, but staying there was the problem. I would be at # 1 for 1 week, maybe 2, then I would drop back down again. Jonathan's exceptional performance and expertise in his field has landed me in the # 1 position 10 weeks ago, and still standing strong. He has very rapid response times each time I communicate with him, and his customer service is second to none. I HIGHLY recommend Jonathan for those who are serious about their search engine rankings. After trying other SEO providers for the last 18 months, I have found that Jonathan is by far the best and well worth his reasonable investment."
-John C. in Lexington
So, if you want results like these please order below. Or contact us to discuss a more comprehensive monthly marketing plan.
P.S. If you have any questions or want to make sure this is right for your business, just drop me a line using the Contact Page at the top.